VELA - VET Empowerment through innovative and inclusive Learning Approaches
2021-1-IT01-KA220-VET-000032964
The shock of the COVID-19 crisis on education has been unprecedented. It has set the clock back on the attainment of international education goals, and disproportionately affected the most vulnerable. According with "UN – Policy Brief: Education during Covid-19 and beyond" more than 1.5 billion learners across the planet are or have been affected by lack of educational meaning due to the COVID-19 pandemic. However, vocational education and training (VET) systems are being uniquely impacted and it has received limited attention compared to other parts of the education system and is often seen as having lower status. While for mainstream schools, governments have adopted protocols to allow students to return to school, in the field of VET there is a dangerous carelessness.
There is an enormous variety...
… of tools available to teachers and trainers to create their own learning material and environments, but the vast majority of them are not VET-specific. Ready-made material with VET-specific content is much less developed. In most cases, the tools provided by public or private stakeholders focus exclusively on theoretical knowledge. There is a risk that VET learners are disadvantaged compared with learners from other educational tracks, as more efforts are put into general school subjects. This extraordinary situation is an opportunity for VET providers and learners alike to develop their digital competence.
The VELA project is able to stand against the educational crisis, supporting the VET providers in using innovative approaches and digital technologies for teaching and learning. Educators will be empowered with tangible tools to enrich their cultural background and to support a comprehensive approach to innovation, and the use of digital technologies for pedagogical, technical and organizational change. VELA will contribute to the implementation of the "Digital Education Action Plan" promoting the effective use of the self-reflection tool and the exchange of good practices with other European stakeholders, cooperating to achieve flexible and permeable learning pathways.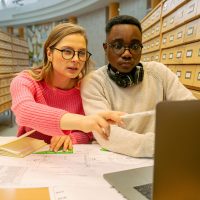 Educators, facilitators
and VET providers
to boost their digital competences in order to increase the attractiveness of VET courses and facilitate the involvement of vulnerable groups in education process.
Project managers, community leaders, instructor and social workers
that are interested to improve their ability in using innovative digital tools for the social inclusion of excluded groups.